PR2 - Mixoplankton database
Daniel Vaulot
Source:
vignettes/pr2_05_mixoplankton.Rmd
pr2_05_mixoplankton.Rmd
The Mixoplankton Database (MDB, DOI 10.5281/zenodo.7560582) has been developed by Mitra et al. 2023 (https://doi.org/10.1111/jeu.12972).
It tabulates species that belong to the mixoplankton. This database has been linked to the PR database which contains a new field called mixoplankton
Values for this field are as follows:
CM - Constitutive Mixoplankton
GNCM - Generalist Non-Constitutive Mixoplankton
pSNCM - plastidic Specialist Non-Constitutive Mixoplankton
eSNCM - endosymbiotic Specialist Non-Constitutive Mixoplankton
In this small tutorial we explain how to access mixoplankton sequences from PR2.
Reference
Mitra, Aditee, David A. Caron, Emile Faure, Kevin J. Flynn, Suzana Gonçalves Leles, Per J. Hansen, George B. McManus, et al. 2023. « The Mixoplankton Database – Diversity of Photo-Phago-Trophic Plankton in Form, Function and Distribution across the Global Ocean ». Journal of Eukaryotic Microbiology : e12972. https://doi.org/10.1111/jeu.12972.
Extracting from PR2 the mixoplankton sequences


  

pr2_mixopk

 

<-

 

pr2

 %>% 
  

# Remove sequences for which we have no taxonomy from Silva


    filter

(

!

is.na

(

mixoplankton

)

)




  
Total number of PR2 sequences belonging to mixoplankton : 3517



table

 

<-

 

pr2_mixopk

 %>% 
  count

(

mixoplankton

)





DT

::

datatable

(

table

, 
             caption

=

"Number of sequences for each type of mixoplankton."

, 
             rownames 

=

 

FALSE

)
Number of sequences of mixoplankton for each type at genus level



# Define a function for treemaps





pr2_treemap

 

<-

 

function

(

pr2

, 

level1

, 

level2

)

 

{


  

# Group


  

pr2_class

 

<-

 

pr2

 %>%
    count

(

mixoplankton

, 

{

{

level1

}

}

,

{

{

level2

}

}

)

 %>% 
    filter

(

!

is.na

(

{

{

level2

}

}

)

)

 %>%
    ungroup

(

)



  

# Do a treemap




  


  ggplot

(

pr2_class

, aes

(

area 

=

 

n

, fill 

=

 

{

{

level2

}

}

, 
                        subgroup 

=

 

{

{

level1

}

}

, label 

=

 

{

{

level2

}

}

)

)

 

+


           

treemapify

::

geom_treemap

(

)




  


  ggplot

(

pr2_class

, aes

(

area 

=

 

n

, fill

=

 

{

{

level1

}

}

, 
                        subgroup 

=

 

{

{

level1

}

}

, label 

=

 

{

{

level2

}

}

)

)

 

+


    

treemapify

::

geom_treemap

(

)

 

+


    

treemapify

::

geom_treemap_text

(

colour 

=

 

"white"

, 
                                  place 

=

 

"centre"

, grow 

=

 

TRUE

)

 

+


    

treemapify

::

geom_treemap_subgroup_border

(

)

 

+


    

treemapify

::

geom_treemap_subgroup_text

(

place 

=

 

"centre"

, grow 

=

 

T

, 
                                           alpha 

=

 

0.5

, colour 

=

 

"black"

, 
                                           min.size 

=

 

0

)

 

+


    theme_bw

(

)

 

+


    scale_color_brewer

(

)

 

+


    guides

(

fill 

=

 

FALSE

)

 

+


    facet_wrap

(

~

 

mixoplankton

, ncol

=

2

)




}

  

g1

 

<-

 

pr2_treemap

(

pr2_mixopk

, 

subdivision

, 

genus

)

 

+


    labs

(

title 

=

 

"PR2 mixoplankton"

)



  

g1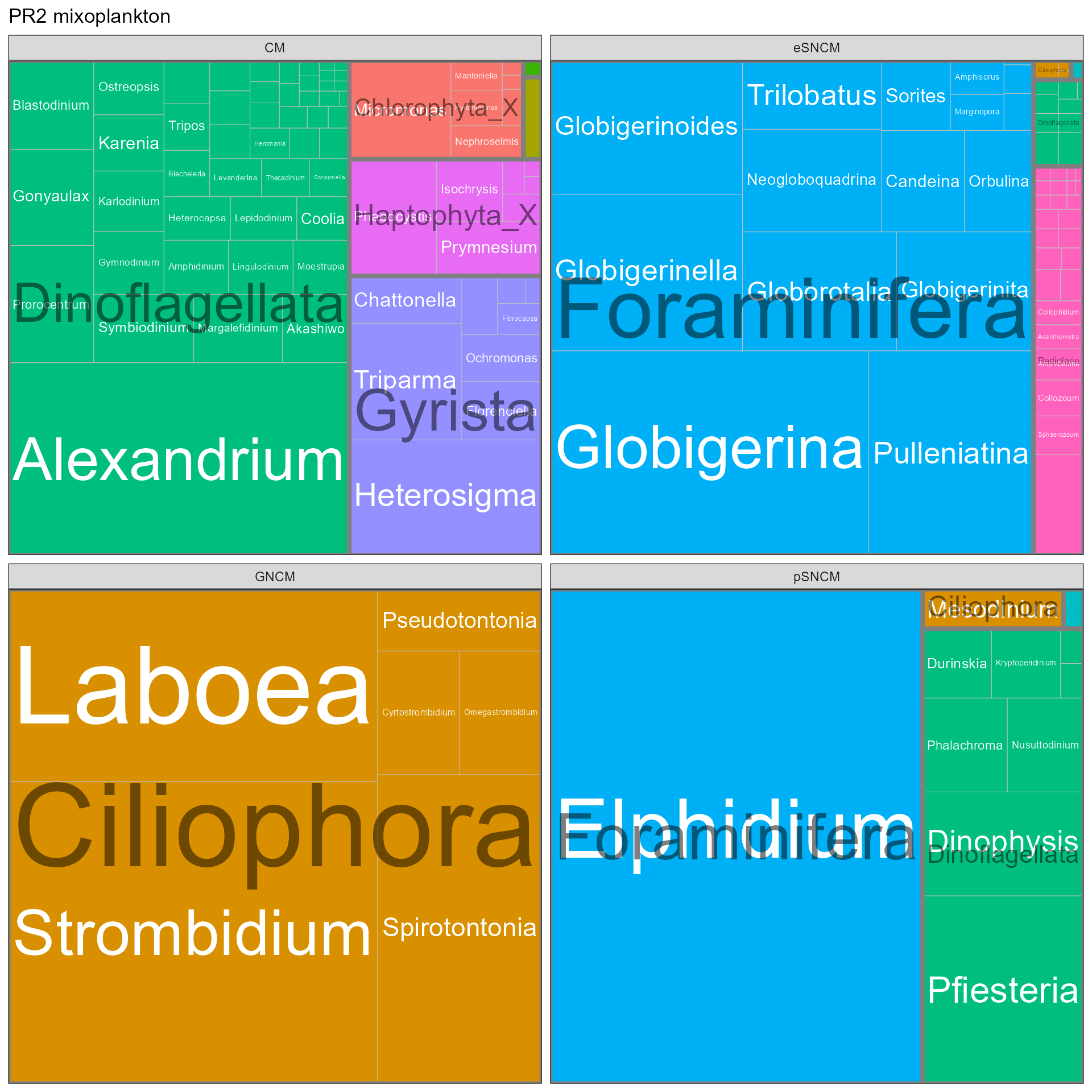 Localisation of mixoplankton sequences




map_get_world

 

<-

 

function

(

resolution

=

"coarse"

)

{


  

# Change to "coarse" for global maps / "low" for regional maps


  

worldMap

 

<-

 

rworldmap

::

getMap

(

resolution 

=

 

resolution

)


  

world.points

 

<-

 fortify

(

worldMap

)


  

world.points

$

region

 

<-

 

world.points

$

id


  

world.df

 

<-

 

world.points

[

,c

(

"long"

,

"lat"

,

"group"

, 

"region"

)

]


  

}






map_world

 

<-

 

function

(

color_continents

 

=

 

"grey80"

, 
                      

color_borders

 

=

 

"white"

, 
                      

resolution

 

=

 

"coarse"

)

 

{



  

# Background map using the maps package


  

# world.df <- map_data("world")



  

world.df

 

<-

 

map_get_world

(

resolution

)



  

map

 

<-

 ggplot

(

)

 

+


    geom_polygon

(

data 

=

 

world.df

, 
                 aes

(

x

=

long

, y 

=

 

lat

, group 

=

 

group

)

, 
                 fill

=

color_continents

, 
                 color

=

color_borders

)

 

+


    

# scale_fill_manual(values= color_continents , guide = FALSE) +


    scale_x_continuous

(

breaks 

=

 

(

-

4

:

4

)

 

*

 

45

)

 

+


    scale_y_continuous

(

breaks 

=

 

(

-

2

:

2

)

 

*

 

30

)

 

+


    xlab

(

"Longitude"

)

 

+

 ylab

(

"Latitude"

)

 

+


    coord_fixed

(

1.3

)

 

+


    theme_bw

(

)


    

# species_map <- species_map + coord_map ()  # Mercator projection


    

# species_map <- species_map + coord_map("gilbert") # Nice for the poles


  return

(

map

)


  

}

 

map_world

(

)

 

+

 
  geom_point

(

data

=

pr2_mixopk

, 
             aes

(

x

=

pr2_longitude

, y

=

pr2_latitude

, color

=

division

, shape 

=

 

mixoplankton

)

, 
             size

=

2

)

 

+


  ggtitle

(

"PR2 mixoplankton"

)